Hi everyone! Today I've got a post for you which some of the nosier ones of you may find a little interesting... others not so much. Basically, I'm moving out in 20 days (eek!) and will be going to stay with my mom in Germany over summer before finding my own place again so I need to slim line my life in order to minimise packing. I've started today by sorting out a section of my wardrobe and thought I would document it via my blog in a series of posts.
So... here is my wardrobe.
As you can see, it's pretty standard and well, a MESS. Today I'm tackling the non hanging section which consists of most of my tops, some dresses, bottoms and pyjamas.
Now, I don't have a ridiculous amount of clothes as I try to clear out fairly often (note: my mom makes me) but there is still way too much stuff in there that never gets worn. There is also stuff in the wash at the moment which isn't included in this clean up so when I looked in there today I knew I could get rid of loads and still have plenty to wear.
I decided to tackle this mess by simply tipping each section out, taking an "inventory" and then putting away the things I wanted to keep. This is what I found (numbers in brackets are what I got rid of!)...
TOPS
Vests: 18(-5)
Jumpers/Sweats: 6(-1)
Tshirts/Crops: 24(-6)
Dresses: 16(-3)
Shirts/Blouses: 8(-4)
Cardigans: 5(-1)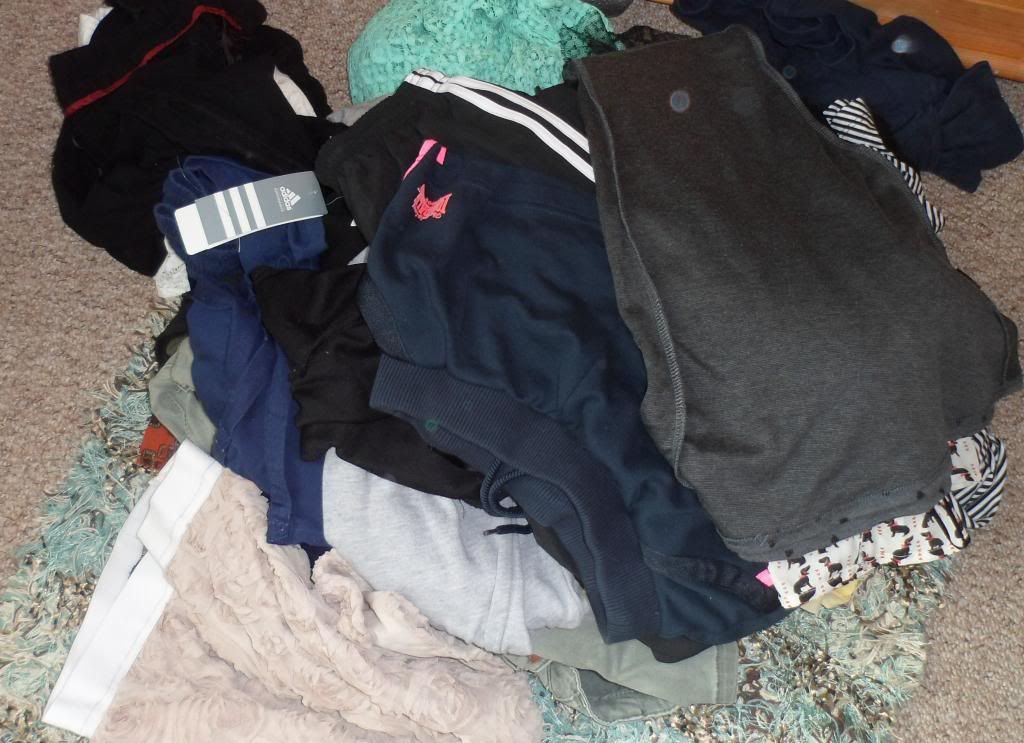 BOTTOMSSkirts: 13(-4)
Shorts: 4
Sport: 3
Trousers/Jeans: 4(-2)
So that's everything for this section. I've almost filled a bin liner with what I'm going to take to the charity shop so I'm quite pleased. I probably could have organised things a bit more but since it's only going to get packed soon I'm happy enough with just cutting down the content. It's quite surprising to see all of the stuff you have kept hold of for whatever reason. I mean, who needs 30 pyjama tops and only 16 pairs of bottoms!? You may have noticed that I still have more tops than bottoms but I thought I'd say, just so you don't think I'm some kind of weirdo who doesn't wear bottoms... some of those are band/sentimental tshirts which I just wear around the house and don't have bottoms to match lol. I was also particularly disgusted to find a pair of tracksuit bottoms which still had the tag on! I guess I need to do more sport.
This part of my wardrobe after the tidy!
The next part of my wardrobe will be much more challenging as it has "stuff" in there as well as more clothes, underwear, tights and bags. I'm really hoping that I will be able to let a lot of stuff go so that I finally have a tidy wardrobe which will be easy to pack and space to hang up some of things which I currently have to fold as I hate folding! It's been quite therapeutic to do this so far but to be honest I'm glad that I won't have to do extra work and sort out anything which is currently in the wash as I know it's stuff I wear a lot. I think sorting shoes will also be an easy task. I don't have many pairs and most of what I have, I don't wear so they can just be thrown away. I'm quite looking forward to that in a weird way, I'm just not a "shoe person"!
How often do you clear out your closets? Any tips? x